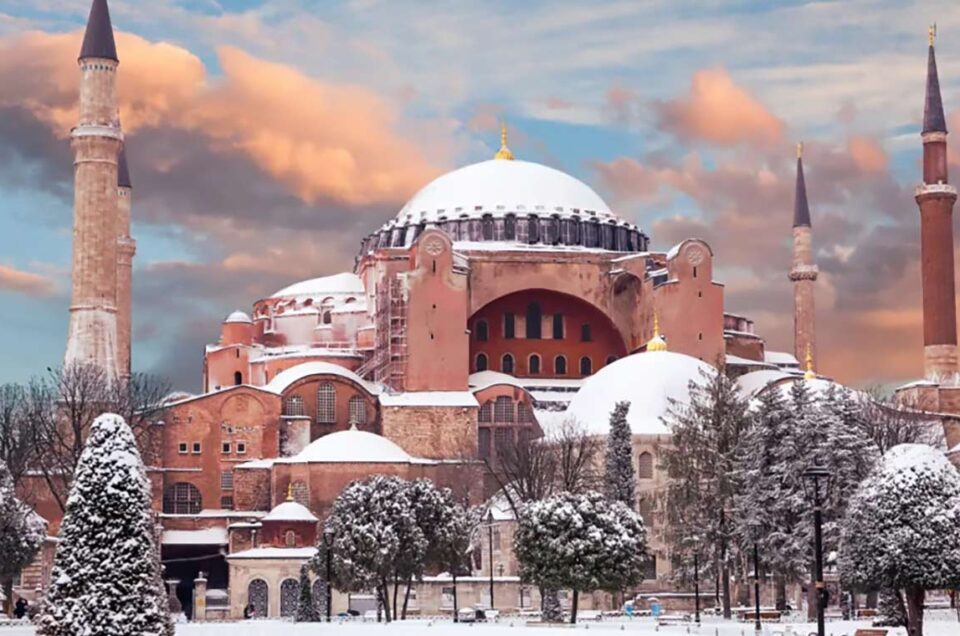 If you've never been to Istanbul, you're missing out. If you've been to Turkey's largest city before but have never seen Istanbul in the winter months, you've missed a huge chunk out of your experience!
Winter in Istanbul is a veritable feast of wonder, beauty, and occasionally, a little snow. For sure, the weather's a little chilly, but you can still get some very pleasant days on the banks of the Bosphorus.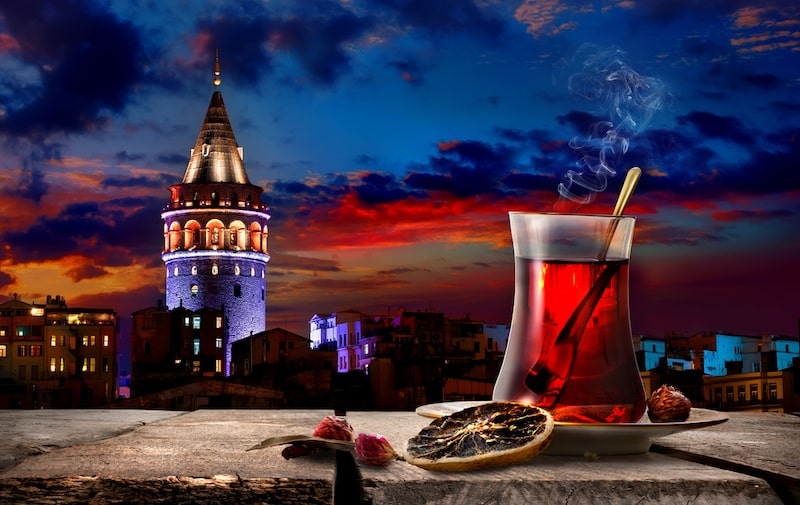 We're talking about a city that spans two continents here, with more history in one single spot than you'll see in entire counties worldwide. Istanbul has seen battles, sieges, Byzantine and Ottoman rule before a successful modernization that has put the city up there with one of the most cosmopolitan around.
Food, shopping, history, culture, entertainment, nightlife, you name it, you'll find it, and more. Even in winter, Istanbul is an incredibly vibrant, lively, and bustling metropolis. In fact, it's not an exaggeration to say that visiting Istanbul is one of the best things to do in Turkey in winter.
If you're pretty keen on heading to Istanbul this wintertime, let's explore what you can expect and a few other valuable tips to help you have the best time possible.
Istanbul In Winter: What To Expect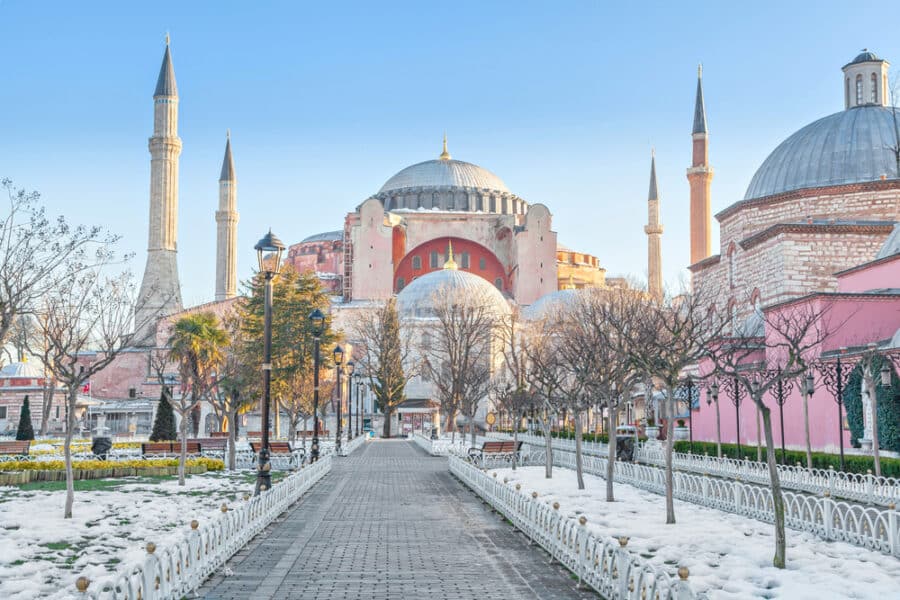 Wintertime is by far the best time to go to Istanbul because you escape the heat. While the city doesn't bake in the same way the southern beach resorts in Turkey do, it's still pretty hot during the summer months, and with the huge crowds you see every single day, it feels much hotter in reality.
From December through February, you can explore more freely. There is an absolute plethora of things to do in Istanbul in winter. Many places will still be very, very busy, for sure, but at least you can walk around without sweating!
Let's also answer the often-asked question 'does in snow in Istanbul in December?' Yes, occasionally, it does, in fact, snow in Istanbul. Snowfall isn't as common as it used to be, though. For the last few years, there has been very minimal snowfall, when in the past there used to be abundant amounts for a time every single year. If you're lucky enough to visit the city when it snows, you'll see that Istanbul in the snow is absolutely gorgeous.
However, it does rain. This is a coastal city, so you can expect clouds often, but don't let that put you off. There are some beautiful sunny days to be had, and even if it is raining, there is a certain charm about Istanbul that makes you forget the need for an umbrella.
There really is something special about getting wrapped up warm and wandering around the city's amazing sights. Grab a takeaway coffee and walk with it along the shores of the Bosphorus, seeing where the day takes you.
Should you expect crowds? Yes. Istanbul is famous for being super-busy, and traffic is always heavy. However, you just need to roll with it. If you're heading to Istiklal Street in Taksim, you'll see a sea of people no matter what the time of the day or night – even in the early hours! Besiktas is always buzzing, although places like Sultanahmet, Eminonu, Kadikoy, and Uskudar tend to quieten down after midnight.
So, what can you expect in Istanbul during the winter months? A really great time. Lots of Istanbul winter activities to do. You're not restricted in terms of things to see and do, and you may find that prices are a little lower, except for New Year. The only thing you can't do is swim in the sea – unless you want hypothermia, of course.
Is Istanbul In Winter Expensive?
The great thing about Istanbul is that you can make it as relatively cheap or expensive as you want to. It really depends on what you choose to do and where you choose to eat.
For sure, you can eat at super-expensive restaurants and pay thousands of lira for the benefit. Or, you can head to a local ocakbasi (BBQ restaurant) away from the main tourist streets and fill up on delicious local treats for a much lower price tag.
During the New Year period, you'll always find that hotel prices skyrocket. There are numerous things to do in Istanbul in December; this is the holiday season, after all.
If you're not concerned about spending the festivities in the city, though, then it's best to avoid that time and choose another week. You can always find some great value deals for hotels and hostels in the city online, and because it's so easy to get around, it doesn't matter where you stay, unless you have a specific preference, of course.
To give you an idea of what you can expect to pay, here are a few examples:
Takeaway coffee – 15TL

Three-course meal (in a local restaurant) – 100TL

Three course meal in a seafood restaurant (Galata Bridge/Bebek/Besiktas) – 200-300TL

Local beer – 20TL
Bear in mind that the exchange rate does fluctuate, and at the moment, it is pretty high, but you can expect around 10.5 Lira for 1 Euro at the moment.
In terms of the price of activities, many are free. For example, you can visit the Blue Mosque in Sultanahmet for free, and you simply donate if you choose to. The Grand Bazaar is also free, except for what you buy. The Basilica Cistern is also a meager price, at around 20TL. Many of the city's museums are free to enter, but some do charge an entrance fee.
The Istanbul Tourist Pass is an excellent way to save cash and avoid queues at the door. Various packages allow you entrance into different places, but you can expect to pay 75 Euros as a starting point, depending on how many days you want to purchase.
If you prefer to just pay at the door, Dolmabahce Palace and Topkapi Palace are two of the most expensive high-profile spots you'll want to see. Topkapi Palace is 100TL to get in, with an extra 100TL to visit the harem. Dolmabahce Palace costs 120TL for basic entry and an extra 90TL for the harem. However, both are must-visits, and once you see inside, you won't care that you had to pay!
Where & What to Eat While In Istanbul In Winter
If you're a foodie, you'll be in gastronomical heaven in Istanbul. There is literally nothing you cannot find. If you want to eat more authentically, avoid places like Sultanahmet or Taksim. The restaurants will tell you that they're serving authentic food, but it's so touristic that you'll end up paying a considerable amount more, and the taste just won't be the same – still good, but lacking that special something.
You're far better off heading away from the tourist streets, over to Besiktas, Uskudar, or perhaps spots in Fatih. If you're unsure, simply ask someone in your hotel where they eat and go there! You'll pay much less and have a more authentic experience.
Be sure to check out chicken shish, Adana kebab, Urfa kebab, sarma beyti, and lahmacun as just a few dishes to add to your list. Of course, you have to wash it all down with a glass of Turkish cay (tea)
If you're a seafood fan, the fact that Istanbul is on the banks of the Bosphorus makes for some fantastic experiences. You can eat the famous Balik ekmek, which is basically a fish sandwich in Eminonu. That will cost you just 10TL, and it's just as fresh and delicious as the sit-down restaurants under the Galata Bridge.
Those restaurants are ideal for a special evening if you want to eat freshly caught fish (a huge range) and drink the local raki. Beware – it's powerful!
Head over to Taksim, and you'll find international food at every turn. There are some fantastic Italian restaurants on Istiklal Street, and you'll also spot Chinese, Indian, and Mexican food. For a more upmarket take on Mexican dishes, head to Nisantasi, just above Besiktas.
Of course, we can't talk about food without talking about the world-famous Nusr'et. This restaurant has now gone global, and everyone's talking about Salt Bae. This is where you can buy the iconic gold steak, but a word of warning, it doesn't come cheap!
There are three Nusr'et outlets in Istanbul – with the main one in Etiler. If you want a book a table, you're best doing it weeks ahead of time; otherwise, you'll be disappointed or have to queue for hours. If you prefer a lower cost and still high-quality steak, there are some other great steakhouses in Etiler, Ortakoy, and around the Bebek area too.
Things To See And Do In Istanbul In Winter
There is so much to do in Istanbul in the winter months that it's impossible to mention it all. Of course, as before, the only thing that winter stops you from doing is swimming, but if you're desperate for a dip, there's plenty of hotels with indoor swimming pools!
Here are a few recommended places to visit in Istanbul in December, January, and February.
Blue Mosque, Sultanahmet

Hagia Sofia, Sultanahmet

Basilica Cistern, Sultanahmet

Grand Bazaar, Sultanahmet/Fatih

Suleymaniye Mosque, Fatih – Wear comfortable shoes, it's a bit of a hill climb, but the views are so worth it!

Bosphorus Bridge, Ortakoy

Balik ekmek in Eminonu and the Galata Bridge

Galata Tower, between Taksim and Galata

Dolmabahce Palace, Besiktas

Topkapi Palace, Sultanahmet

Istanbul Archaeological Museum, Sultanahmet

Gulhane Park, Sultanhamet – Stunning park for a chilled-out walk, a little like Narnia!

Istanbul Aquarium, Florya (Bakirkoy)

Mall of Istanbul, Cevahir Mall, the list of malls goes on!

Istiklal Street, Taksim

A football match at the stadiums of either Galatasaray, Fenerbahce, or Besiktas